League of Legends Open Beta Lands on the Mac
The incredibly popular multiplayer game League of Legends has arrived on the Mac. Existing players can download the game directly, while new users will need to create an account.
The free-to-play League of Legends was originally released in 2009 for the PC. Inspired by the Warcraft III map Defense of the Ancients, players compete in 5v5 (or 3v3) battles controlling a single character. Each week there's a rotation of available characters to play as, and the game is monetized by allowing players to pay to permanently unlock these characters as well as cosmetic skins for them.
League of Legends is also one of the most popular eSports games and many events are streamed live with hundreds of thousands of viewers. Prizes for the highest level leagues can run into the millions of dollars and each team has their own personalities and fan followings.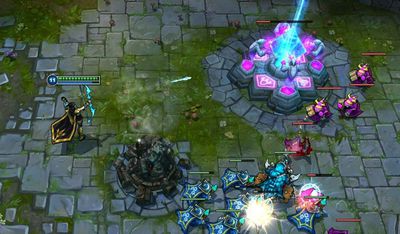 Going native on Mac has been a big goal for us, and we're really excited to offer the same experience across both platforms. And just in case you're still skeptical, we managed to wrangle an endorsement from this business-savvy professional. We're confident you all know that this man games as he pleases!

The Mac client does everything that the PC client does, meaning you'll get all future features, bug fixes and new content on the same schedule as PC players, but on your native OS. The Cross-Platform team will also continue working diligently to smash any Mac bugs that surface during the open beta.
League of Legends had a private Mac beta client that was scrapped a few years ago, and rumblings of the game returning to OS X have been all over the internet for months now. League of Legends' payment model is designed to be very different from the timer-based freemium games like Real Racing 3. Users can play as much as they want without paying, but they are limited to the characters available that week. Alternatively, gamers can pay between $5 and $10 to permanently unlock a playable character or players can earn in-game currency through gameplay.
To mark the release of the Mac beta, League of Legends has released the iBlitzcrank skin for the character Blitzcrank as well as this promotional video that is full of inside jokes for existing fans: