Redesigned MacBook Air Reportedly Planned for 3Q 2013 Launch, Possibly with Retina Display
Taiwanese newspaper Economic Times reports [Google translation, via Mac Otakara] that Apple is lining up suppliers for its next-generation MacBook Air for launch in the third quarter of this year.
According to the report, the MacBook Air will not only be receiving internal upgrades to Intel's new Haswell platform but also a "facelift" with new external features, including the possibility of a Retina display. The report also claims that suppliers will begin shipping components to Apple's assembly partner Quanta during the second quarter of the year.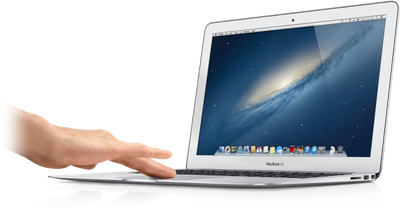 KGI Securities analyst Ming-Chi Kuo had previously included an updated MacBook Air in his 2013 Apple product roadmap, predicting a late second quarter or early third quarter launch for the device. He did, however, indicate that the update would not include Retina displays, which would require substantially more battery power than the current displays and likely force a redesign to also accommodate a somewhat thicker display assembly.
Pricing remains another question for Apple, as the MacBook Air is the company's entry-level notebook and Apple will likely be very hesitant to raise that floor. But while Apple's Retina MacBook Pro models carry significantly higher pricing than their non-Retina counterparts, a significant amount of that cost is related to a shift to solid-state drives, which are already used in the MacBook Air.
Consequently, a shift to a Retina display for the MacBook Air may add a much smaller price premium to the lineup. Apple could also choose to separate the MacBook Air into Retina and non-Retina lines as it has for the MacBook Pro, or offer Retina displays as higher-end options on a unified lineup.