Apple Makes More From iTunes and Accessories Than Most Companies Do From Phones
An analysis by Asymco of Apple's newly-introduced revenue breakdowns claims that Apple made more money from iTunes and accessories sales alone than all other companies except Samsung made from phone sales during the most recent quarter.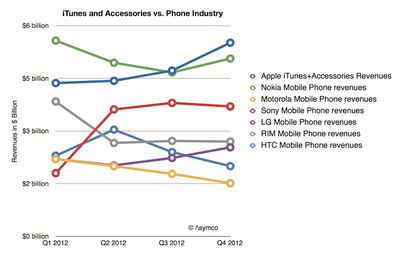 As noted in its latest earnings release for the first fiscal quarter of 2013, Apple's total revenues from iTunes and accessories amounted to over $5.5 billion - ahead of the total phone revenues of each of Nokia, Motorola, Sony, LG, RIM (now rebranded as BlackBerry) and HTC.
Analysis author Horace Dediu also notes that iTunes may be worth more to Apple than its Mac business within the current year.
iTunes+Accessories combined is a bigger business in terms of revenues than any of the other phone vendors except Samsung. iTunes is now Apple's fourth largest business, having overtaken the iPod in revenues two years ago. iTunes growth relative to the Mac means that it could become the third largest business during this year.
The figures also make iTunes bigger than Microsoft's combined Xbox and Windows Phone divisions.
Meantime, Morgan Stanley analyst Scott Devitt (via Business Insider) suggests that Apple receives around a billion dollars a year from Google in return for making Google the default search on iOS devices, up roughly tenfold from just three years ago. It had previously been believed that Apple had a revenue-sharing deal with Google, but Devitt believes Apple would have gone for the neater and less risky option of a flat fee per device sold.
The steep rise in value for the search deal is said to have been driven in part by Microsoft which has been becoming increasingly aggressive about making such deals for its Bing search engine but has yet to secure a partnership with Apple for iOS to make the switch.