iOS 6.1 Beta 5 Code Hints at Upcoming 128 GB Devices
As noted by @iNeal and iDownloadBlog, the new iOS 6.1 Beta 5 released yesterday contains a reference suggesting that Apple may be looking to offer 128 GB iOS devices in upcoming generations.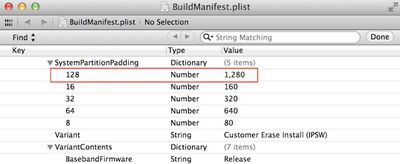 The reference to a 128 GB capacity comes as part of SystemPartitionPadding key in the build manifest associated with the release and is not found in publicly available versions of iOS.
While the observation does not mean that a 128 GB iOS device is definitely coming later this year, this is not the first time in recent months that Apple has hinted at future 128 GB iOS devices. iTunes 11, released in late November, contains a graphic corresponding to a mobile device with a capacity of 128 GB, although no such device has been released so far.