Just over a year after TwelveSouth released its PlugBug Mac and iDevice charger, it has gone international. The new PlugBug World is the same as the original, but includes five swappable prong adapters for use in the UK, Continental Europe, Australia, New Zealand, North America, Hong Kong, Singapore, China, Japan and a number of other countries.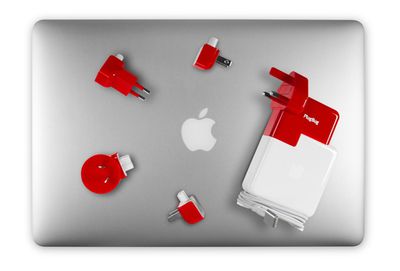 PlugBug World is an international version of the popular Twelve South PlugBug. PlugBug World brings the dual charging convenience of PlugBug to Mac users everywhere. PlugBug uses the clever trick of attaching to any Apple MacBook Power Adapter by replacing its attached plug or extended power cord. When snapped into place, PlugBug not only allows for worldwide charging of MacBook, but also provides a separate 2.1-Amp USB charger for iPad/iPhone. Once attached, simply select your local plug, or use your extended cable, to power both your MacBook and iPad or iPhone from a single outlet. This powerful accessory is a lifesaver in locations where finding multiple wall outlets can be a challenge, and where charging your MacBook and iPad quickly is mission-critical to your next meeting or presentation.
The PlugBug World is available at TwelveSouth.com for $44.99 / £39.99 / 44,99 €.