Russia Commemorates Steve Jobs with Giant iPhone in St. Petersburg
An enormous iPhone has been unveiled in St. Petersburg, Russia, as a tribute to former Apple CEO Steve Jobs, who passed away in October 2011 from pancreatic cancer.
The six-foot-tall sculpture, which resembles a black iPhone 4, was brought to life by designer Gleb Tarasov, according to The Daily Mail. Though the phone is not equipped with a touch screen, it does display a photo and video slideshow of Jobs' life, including important events and well-known speeches.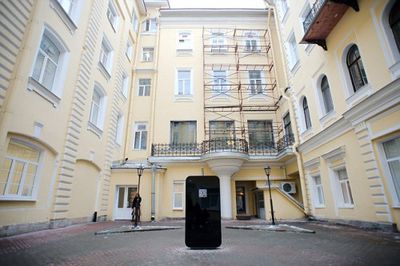 Located in the courtyard of the St. Petersburg National Research University of Information Technologies, Mechanics, and Optics, the giant iPhone also features a QR code that links to a memorial website.


It is the product of a competition that was held by the Progress IT fund last year, which held a contest to decide who would design the monument. Tarasov, who titled his original proposal "Sunny QR Code," was chosen from more than 200 entrants as the winner, although the final result is a substantial departure from his original submission based around a dynamic QR code readable only in the mid-day sun.
The memorial was officially unveiled yesterday, marking the 12th anniversary of iTunes and the 6th year since the iPhone was originally revealed by Jobs at MacWorld 2007.