Fusion Drive Now Available as Option for Low End 21.5" iMac
As noted by MacGeneration and in our MacRumors Forums, Apple is now allowing the entry level 21.5" iMac to be configured with a 1TB Fusion Drive.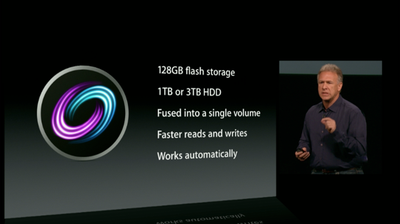 The Fusion Drive is a built-to-order option for the iMac and Mac mini that
combines
SSD and traditional hard drives into a single logical volume.
With Fusion Drive in your iMac, disk-intensive tasks — from booting up to launching apps to importing photos — are faster and more efficient. That's because frequently used items are kept at the ready on speedy flash storage, while infrequently accessed items go to the hard drive. The file transfers take place in the background, so you won't even notice.
The 1TB Fusion Drive add-on is a $250 option and was previously only offered on the high end 21.5" iMac, high end Mac mini and 27" iMacs.