Two hit games arrived for Mac today in Batman: Arkham City Game of the Year Edition and The Witcher 2: Assassins of Kings Enhanced Edition and are now available in the Mac App Store.
After being announced for Mac in October, Feral Interactive has brought Arkham City to Mac a year after its release on consoles and a year after the predecessor Arkham Asylum was released in the Mac App Store.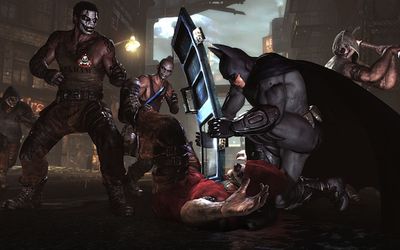 A year after the events of Batman: Arkham Asylum, Quincy Sharp, the new mayor of Gotham, has turned its slums into Arkham City, a terrifying open-air prison where violent thugs and insane super-villains are incarcerated within heavily fortified walls.

When Batman is imprisoned alongside Gotham's most notorious, he must discover Arkham City's true purpose before it's too late. This intense, atmospheric sequel to Batman: Arkham Asylum plunges Batman deep into a gothic nightmare from which he will need all his wits, gadgetry and skill to escape.
The Game of the Year Edition includes all the DLC that hit the consoles for no extra cost, including the Harley Quinn's Revenge story mission, multiple skins and Challenge Map packs. Arkham City is going for $39.99 in the Mac App Store [App Store Link] and its minimum system requirements are a 2.0 GHz processor, 4 GB of RAM, a 256MB graphics card and 16GB of harddrive space.
The other big release is The Witcher 2 which, unlike Arkham City, comes from original developer CD Projeckt RED and is on sale right now for $19.99 [App Store Link]. It arrives eight months after arriving on Xbox 360 and a year and a half after it was released on PC.

Play a game where your choices really matter and where you affect the fate of individuals, communities, and entire kingdoms. Fight blood-thirsty monsters and navigate a web of schemes, lies, and political intrigue in one of the best looking games ever to come to Mac.

You are Geralt of Rivia, a witcher, a member of a mysterious caste of professional beast-slayers created through brutal training and mutation. Witchers specialize in tracking down and killing monsters. Long gone are the days when beasts lived near human settlements in every forest and cave, and the folk of the Northern Kingdoms held witchers in high regard. The age of elf and dwarf massacres has come, a time when men rival monsters in the evil they do, a time when mutated witchers are regarded as dangerous outcasts, neither human nor nonhuman. Amidst this chaos, Geralt is drawn into a bloody conspiracy. Accused of killing a king, the witcher embarks on a solitary quest to clear his name and uncover the mysteries of his past.
The Witcher 2 has been heralded as one of the best RPGs in the past could years and contains all the enhancements and DLC that the Xbox 360 version contains. You can check if your Mac meets the requirements at The Witcher website. The minimum specs require OS X 10.7.5 or later, an Intel Core 2 Duo processor, 4 GB RAM, GeForce GT 650M 512 MB, Radeon HD 5770 1 GB and 25 GB free HDD space.