Apple Television, iPad Mini, MacBook Air Speculation for 2013
BusinessInsider relays a report from analyst Gene Munster. Munster has been one of the most vocal proponents of an Apple television set with multiple claims that Apple is indeed working on such a device.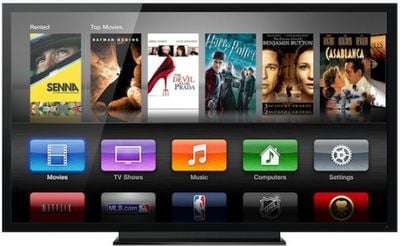 In the latest report, Munster pushes back his own predictions for the delivery of an Apple television set to November 2013. This comes shortly after flip flopping
claims
that the Apple television is not launching imminently.
Business Insider outlines Munster's other predictions for Apple releases in 2013.
- March 2013: iPad Mini with Retina display, update the little Apple TV box, allowing to do accept apps from developers, and some sort of iTunes radio product.
- June 2013: WWDC brings us previews of iOS 7, and OSX, as well as MacBook Airs with Retina displays. Look for Jony Ive's influence over iOS to start showing up here.
- September 2013: iPhone 5S, a "modest upgrade" from the iPhone 5. The iPad Mini gets a specs bump, and we get a new iPad, which is totally redesigned to look more like the iPhone 5 and iPad Mini.
- November 2013: An Apple TV comes out. It should cost $1,500-$2,000 and come in sizes from 42-inches to 55-inches
We see these predictions as simply educated guessing on Munster's part, and don't place much faith into the specifics, but it does serve as an interesting discussion for what Apple might offer in 2013.