AAPL Surging Following Extremely Positive Analyst Comments
Apple's stock price has surged nearly 6 percent today following extremely bullish comments from Topeka's Brian White. White feels that the recent drop off in Apple's stock price has little to do with the fundamentals of the company and that the stock is ready for significant growth.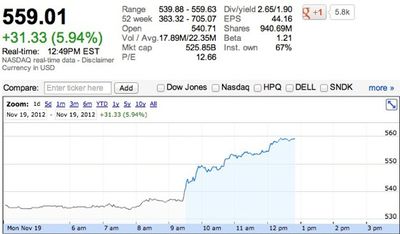 In our view, the sell off in Apple's stock over the past eight weeks has gotten to the point of being "insanely insane" given the depressed valuation (CY13 P/E of 7.6x ex-cash), new blockbuster products for the holiday season, the attractive long-term growth opportunities that lie ahead and the Company's ability to distribute significant cash flow to investors. Those investors that have missed Apple or have been under-weight the stock, now have another opportunity to buy Apple before sentiment takes a turn for the positive during what has historically been the strongest quarter of the year for the stock.
Apple's stock price broke through the $700 barrier for the first time back in September but had been on a significant slide since then.
Update: Apple ended the day up $38/share, or more than 7 percent, closing at $565.