iPad Mini Survives Dunk Test, Cracks in Drop Tests but Still Functions
As is always the case with new iOS device launches, some early purchasers are interested in putting the products through drop tests and other experiments in order to test their durability. The iPad mini is no exception, and several drop and dunk test videos have already been posted.
Android Authority has a comparison between the iPad mini and Nexus 7 tablets, putting each device through a series of three drops from approximately chest high.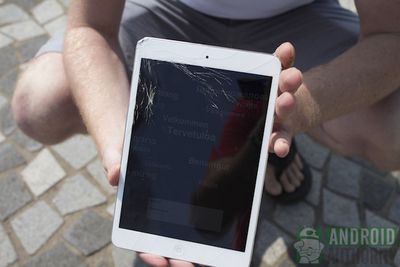 While the iPad mini did suffer a fair amount of damage, including a cracked screen, it did outperform the Nexus 7 in that it continued to function after being dropped.
Warranty company SquareTrade has also performed its own drop and dunk tests comparing the iPad mini to the Nexus 7 and the third-generation iPad. In the drop tests using a dedicated rig, the iPad mini held up well in a corner drop, but the screen did shatter on a face-down drop. In the dunk test, which involved placing each device in a tub of water for ten seconds, the iPad mini continued to function normally, while the iPad appeared to develop a sluggish home button and the Nexus 7 reset itself and became non-responsive.