iPad Mini Ships with Same 5-Watt Power Adapter Bundled with iPhones
Since the announcement of the iPad mini last week, there has been some discussion about whether Apple would include the smaller 5-watt power adapter typically bundled with iPhone models or the larger 12-watt adapter intended for the latest full-size iPad models.
One report from just after Apple's media event indicated that Apple would be shipping the larger 12-watt adapter with the iPad mini, but iPhoneinCanada.ca noticed soon after that the Apple Store iOS app was showing a photo of the smaller 5-watt adapter as part of the iPad mini package contents.
One MacRumors reader was able to purchase an iPad mini from his local Walmart yesterday and confirmed that it does indeed ship with the smaller 5-watt adapter.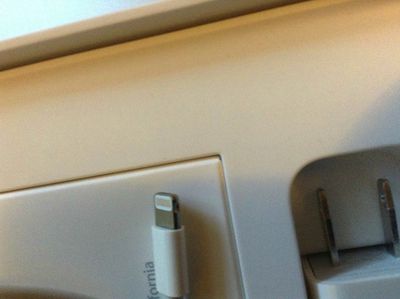 Portion of 5-watt power adapter visible in lower right corner
The 12-watt charger (or its 10-watt predecessor) could charge the iPad mini more quickly than the 5-watt adapter, provided that the iPad mini itself would allow more than 5 watts to be drawn from the charger. Any of the adapters can be used with any iOS device, but both the adapter and the devices themselves specify how much power can be drawn. For example, an iPhone will only draw 5 watts regardless of which adapter it is plugged into, while an iPad will draw the full wattage on any of the adapters, with the lower-wattage adapters obviously charging the device more slowly than higher-wattage ones.
With the iPad mini's battery having three times the capacity of the iPhone 5's battery, charging the iPad mini through the included 5-watt power adapter would take considerably longer than charging an iPhone. If, however, the iPad mini is capable of drawing higher wattage, users may prefer to charge the device through a larger 10-watt or 12-watt adapter intended for the full-size iPad.