Apple Introduces New 7.9-Inch iPad Mini Starting at $329
As rumored, Apple announced the new iPad mini at today's media event. The device features a 7.9-inch display with a resolution of 1024x768 pixels, measures just 7.2 millimeters thin and weighs 0.68 pounds.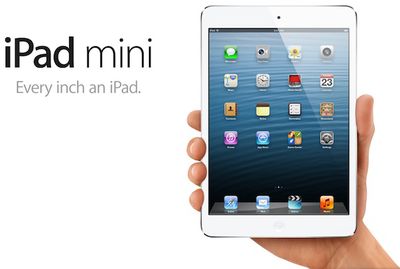 Internally, the iPad Mini has a dual-core A5 processor, a Facetime HD camera on the front and a 5-megapixel camera on the rear, 802.11a/b/g/n Wi-Fi connectivity, and 4G LTE cellular connectivity in some models. Despite its smaller size, the iPad mini still offers up to 10 hours of battery life.
"iPad mini is every inch an iPad. With its gorgeous 7.9-inch display, iPad mini features the same number of pixels as the original iPad and iPad 2, so you can run more than 275,000 apps designed specifically for iPad," said Philip Schiller, Apple's senior vice president of Worldwide Marketing. "iPad mini is as thin as a pencil and as light as a pad of paper, yet packs a fast A5 chip, FaceTime HD and 5 megapixel iSight cameras and ultrafast wireless―all while delivering up to 10 hours of battery life."
With the same resolution as the iPad 2, all existing iPad apps that work on the older iPad 2 will work on the iPad mini without any need for developers to make modifications to their existing apps.
The iPad mini starts at $329 for the 16 GB Wi-Fi model, with the 32 GB Wi-Fi model priced at $429 and the 64 GB Wi-Fi model coming in at $529. The models with cellular capability cost an additional $130. All models are available in the same black/slate and white/silver color schemes seen on the iPhone 5.
Pre-orders for the iPad mini will start on Friday, October 26 with the Wi-Fi models shipping on November 2 and the cellular models starting to ship two weeks later.
Apple has also introduced new polyurethane iPad mini Smart Covers in six different colors, priced at $39 each. Apple also now has a full suite of Lightning adapters to support USB camera connections, SD cards and VGA or HDMI connectivity.