Photos of 4:3 Display from Apple's 'iPad Mini' Surface
Parts firm ETrade Supply posts several photos of what it believes to be a legitimate display from Apple's forthcoming "iPad mini" set for introduction at next Tuesday's media event. The display is said to be of the same 4:3 aspect ratio of the full-size iPad and measures 162 mm x 124 mm.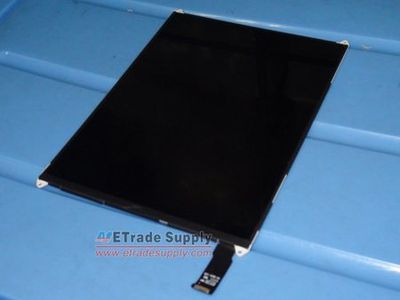 Text on the back of the display suggests that the part was manufactured by LG Display, and text on the ribbon cable extending from the display is also consistent with labeling on genuine Apple parts.


ETrade Supply has also posted several photos of an iPad mini battery, which appears to be identical to the part shared by MacRumors earlier this week with the exception of the Apple part number. ETrade Supply's battery carries an APN of 616-0627, while the battery in our photo carried an APN of 616-0641. Any differences between the two parts are not immediately obvious.
Following ETrade Supply's posting of the iPad mini display photos, French site Nowhereelse.fr posted its own photo [Google translation] of what has been claimed to be the iPad mini display in quality testing. The site received the photo last week and was unable to verify with any degree of confidence that the part was indeed an iPad mini display, but with the actual part now having been shared by ETrade Supply, similarities in the mounting points for the two displays suggest that the display being tested may indeed be for the iPad mini.