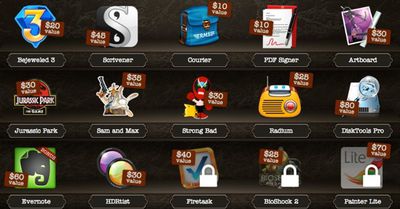 MacHeist has launched their fourth application bundle, combining fifteen apps with a retail value of $539 (if certain sales targets are reached), for $29. MacHeist typically assembles these bundles with a wide variety of apps, including both games and productivity programs.
This year's bundle includes:
- Bejeweled 3
- Scrivener
- Courier
- PDF Signer
- Artboard
- Jurassic Park
- Sam and Max
- Strong Bad
- Radium
- DiskTools Pro
- Evernote (With 15 months of Evernote Premium included)
- HDRtist
- Firetask*
- BioShock 2*
- Painter Lite*
The last three apps will be unlocked once certain sales targets are reached. Further, 25% of each purchase goes to one of 10 charities that the purchaser can choose from.