iFixit Tears Down the New Seventh-Generation iPod Nano
The teardown experts at iFixit have taken apart the new Seventh-Generation iPod Nano, noting how much work Apple's engineers put into making the device as thin as possible. The teardown notes that the battery has a rating of 0.8Wh, more than twice the rating of the prior generation Nano.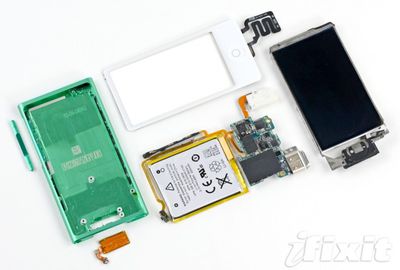 The battery, Lightning connector and volume controls are all soldered directly to the logic board. The button cable and headphone jack are attached as well. The site does note that the LCD and digitizer glass are not fused together, allowing replacement of either component individually.
iFixit found components from Apple, Broadcom (Bluetooth + FM Radio), NXP Semiconductors, Toshiba (NAND flash), and Texas Instruments (touchscreen controller) inside the Nano.


Overall, iFixit found the new iPod nano to be fairly difficult to repair as many components are soldered directly to the logic board. The battery appears to be particularly difficult to replace. The revelation is not a surprise, as Apple does not intend its mobile products to be user-serviceable and the company's efforts to push the limits of design and size reduction have led it to sacrifice accessibility.
iFixit has also taken apart the Fifth-Generation iPod Touch, as well as the iPhone 5.