Apple Hits New High with 13.6% Share of U.S. PC Shipments in 3Q 2012, Lenovo Captures Worldwide Title
Research firm Gartner today released its preliminary personal computer shipment data for the third quarter of 2012, providing a picture of just how weak market performance was during the quarter. While Apple actually experienced a year-over-year unit decline of 6.1% in the United States, other top vendors with the exception of Lenovo posted even steeper declines, giving the overall U.S. market a 13.8% decrease in shipments.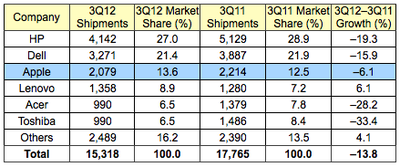 Gartner's Preliminary U.S. PC Vendor Unit Shipment Estimates for 3Q12 (Thousands of Units)
Apple's share of the U.S. market rose to 13.6% for the third quarter on the strength of the back-to-school market, which is typically drives Apple's best performing quarter. The figure allowed Apple to maintain its comfortable hold on the third position in the U.S. market behind HP and Dell and marks Apple's best performance in recent years in beating out the company's 12.5% share in the third quarter of 2011.

Apple's U.S. Market Share Trend: 1Q06-3Q12 (Gartner)
As usual, Gartner did not cover Apple's worldwide market share for the quarter, as the company does not rank among the top five vendors on a worldwide basis. PC shipments experienced an 8.3% year-over-year decline on a worldwide basis, with Lenovo's 9.8% growth enabling it to take the shipment title away from HP.
Update 2:04 PM: IDC has also released its estimates for the quarter, pegging Apple's share of the U.S. market at 12.5% on a shipment decline of 7%. According to IDC, the overall U.S. market shrank by 12.4%
On a worldwide basis, IDC estimates that HP was narrowly able to hold off Lenovo for the top spot.