Steve Jobs Envisioned the iPad in 1983
Visionary is one of the most frequently used words to describe Steve Jobs. Nearly a year after he passed away, historians are still digging up treasures from his life that confirm that assessment.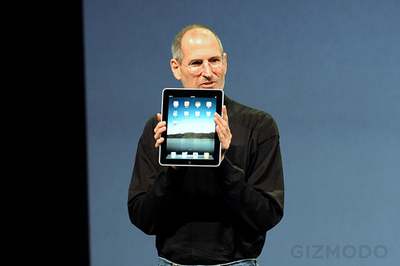 The Next Web writes of a speech Jobs gave in 1983 at the Center for Design innovation. After that speech, he had a question-and-answer session that covered a wide range of topics, one of which was an incredibly detailed assessment of Jobs' vision for a "computer in a book" that one could learn how to use in 20 minutes.
"Apple's strategy is really simple. What we want to do is we want to put an incredibly great computer in a book that you can carry around with you and learn how to use in 20 minutes. That's what we want to do and we want to do it this decade," says Jobs. "And we really want to do it with a radio link in it so you don't have to hook up to anything and you're in communication with all of these larger databases and other computers."
The full recording of the speech including the Q&A is available at LifeLibertyTech.com, with the Q&A starting about 21 minutes in.
Walter Isaacson also revealed some tidbits behind the development of the iPad in Steve Jobs' biography.
(Image courtesy Matt Buchanan)