LaCie has released a new entry in its Rugged series of portable storage drives. This time, it's a Thunderbolt/USB3 offering that comes equipped with a 1TB 5400rpm hard drive or either a 120GB or 256GB 6Gb/s solid state drive. LaCie says the SSD runs at speeds of up to 380MB/s.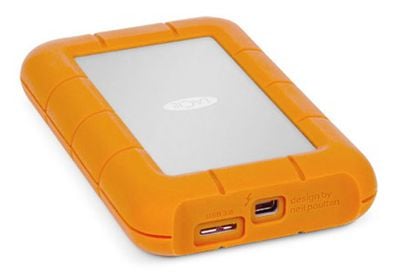 The LaCie Rugged brings two industry leading technologies, USB 3.0 and Thunderbolt together so users can experience the fastest transfer speeds available on PC or Mac. The LaCie Rugged SSD delivers record-breaking speeds up to 380MB/s – making it the fastest bus-powered product ever. Respectively, the hard disk version performs up to 110MB/s, a 35 percent improvement over FireWire 800. Whether you are a photographer, videographer, or power user, the LaCie Rugged can move 10GB in a few seconds and ensure zero lag-time when accessing files, viewing photos, or editing videos.
The 1TB version is $249, while the 120GB and 256GB SSD's are $199 and $349 respectively. They're available at Apple Stores and at LaCie.com.