Apple Sends Emailed Apologies for iCloud Outage
Apple has sent an emailed apology to customer affected by the recent iCloud outage that took down email for a small fraction of users for several days. Apple claimed the outage only affected 1.1% of iCloud users.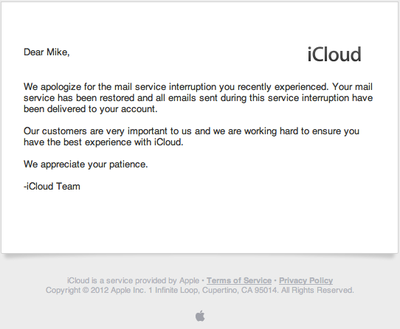 We apologize for the mail service interruption you recently experienced. Your mail service has been restored and all emails sent during this service interruption have been delivered to your account.

Our customers are very important to us and we are working hard to ensure you have the best experience with iCloud.

We appreciate your patience.

-iCloud Team
Apple has not disclosed any plans to offer a service credit or refund to affected users, though compensation is slightly more tricky because the base iCloud service is now free.
Thanks Mike!