iPhone 5 Pre-orders Set to Begin at 12:01 AM Pacific Time Tomorrow [Update: Confirmed]
While Apple has yet to officially announce tomorrow's starting time for iPhone 5 pre-orders, it is beginning to look like the launch will follow the same pattern as last year with pre-orders starting at 12:01 AM Pacific Time / 3:01 AM Eastern Time.
Apple sales representatives have been telling customers asking about availability that pre-orders will begin at that time, and both Verizon and Sprint have announced 12:01 AM Pacific launches for their own pre-orders. AT&T has not yet officially released a pre-order starting time.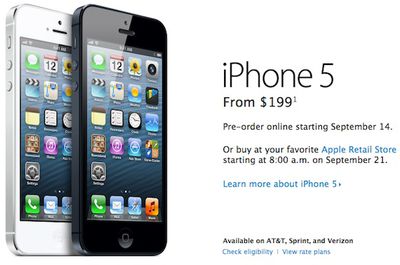 Last year, Apple was nearly 45 minutes late in starting pre-orders and experienced significant issues with online processing for quite some time after they did launch, and many users had better luck pre-ordering through their carriers.
Update 10:24 AM: Apple has confirmed to Wired that it will begin taking iPhone 5 pre-orders at 12:01 AM Pacific Time tomorrow.