How an Architecture Website Got Featured in the iPhone 5 Launch Video
Architecture website Dezeen was prominently featured in the iPhone 5 promotional video revealed yesterday, and today the site has posted a brief behind-the-scenes look at how the collaboration came to fruition.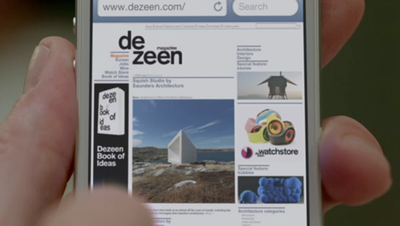 The site is featured in the video starting around the 1:16 mark, with the iPhone 5 user opening an email with a link to the website. He clicks the link, views the site, navigates to Safari's bookmarks list and then opens another page. The page is viewed during a section of the video discussing how LTE technology provides for "really fast downloads over your cellular network."

Apple contacted Dezeen earlier this year asking us to create a bespoke version of our home page and an editorial page for a possible future marketing campaign. Apple specified that both had to be free of external advertisements and social media buttons, but they did not give any details of how the pages might be used.

The pages [were] created for us by our long-term collaborators Zerofee. Besides the iPhone versions of Dezeen, we also created billboard-sized pages that may, or may not, appear in Apple Stores and outdoor advertising hoardings as part of the marketing push for the iPhone 5.
Given how secretive Apple tends to be with its marketing materials, it remains to be seen if this disclosure by Dezeen will impact Apple's marketing strategy going forward.