Counter-Strike: Global Offensive Arrives for Mac on Steam
The latest version of Counter-Strike -- Valve's flagship series and one of the most popular PC gaming titles ever -- has arrived on the Mac via Steam. Counter-Strike: Global Offensive is the fourth title in the CS series, which has sold more than 27 million units in its lifetime.
Along with Portal 2, this is the second time that Valve has launched a flagship game simultaneously on the Mac and the PC, and the first Counter-Strike release since Steam launched on the Mac in 2010.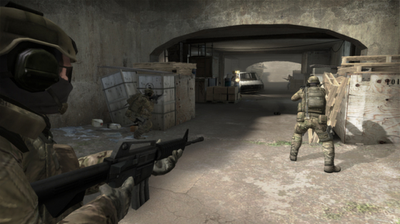 Counter-Strike: Global Offensive (CS: GO) will expand upon the team-based action gameplay that it pioneered when it was launched 12 years ago.

CS: GO features new maps, characters, and weapons and delivers updated versions of the classic CS content (de_dust, etc.). In addition, CS: GO will introduce new gameplay modes, matchmaking, leader boards, and more.
The Mac version has fairly liberal system requirements, with CS:GO looking for an Intel Core Duo processor with 2GHz or better, 2GB of RAM, and an ATI Radeon HD 2400 or better or a NVidia 8600M or better.
Counter-Strike: Global Offensive is available via Steam for $14.99.