Mitt Romney to Announce Vice Presidential Pick via iPhone App; Obama Campaign Releases New App
With less than 100 days to go until the Presidential Election in the United States, the candidates from both major parties have released several iPhone apps to connect with voters and volunteers -- and Mitt Romney says he will make a very major announcement via a dedicated app just released by his campaign.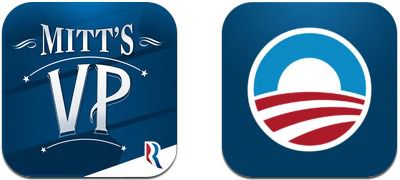 Romney's campaign released a new app today called Mitt's VP. [App Store] The app promises to tell supporters who Governor Romney's choice for a running mate will be before it's released anywhere else -- via push notification. Typically, vice presidential announcements are elaborately scripted affairs that occasionally include a variety of diversionary tactics to throw the press off the trail before the campaign is ready to make the announcement.
Beth Myers, senior advisor to Mitt Romney, wrote this in an email to supporters today:
These last few months, I've had the privilege and honor of leading Governor Romney's search for a vice presidential running mate.

While I won't be breaking any news today, I wanted to let you know how to be the first to get the VP scoop with our new Mitt's VP app.

Just download the free app on your iPhone or Android device and when Mitt decides on his running mate, you'll get an exclusive notification of his VP selection before anyone else.
Not to be outdone, the campaign to reelect President Barack Obama just released a new Obama for America iPhone app [App Store] that connects supporters with local events, breaking news, opportunities to volunteer and more. The Obama campaign has another similar app called Obama 2012 that hasn't been updated since last November and appears to duplicate many of the features in the new app.
This is the first presidential election to take full advantage of mobile apps and devices. The smartphone revolution had only just begun when the last Presidential campaign was waged in 2008 and the App Store was only months old on election day.
Note: Due to the inevitable political nature of the discussion regarding this topic, the discussion thread is located in our Politics, Religion, Social Issues forum. All forum members and site visitors are welcome to read and follow the thread, but posting is limited to forum members with at least 100 posts.