Facebook's Team of Former Apple Engineers Focused on Improving iOS App
Last month, The New York Times reported that Facebook has been working on a major overhaul of its iOS app, seeking to improve performance by transitioning from the current HTML5-based app to a native Objective-C one. At the time, Facebook was said to be releasing the app the following month.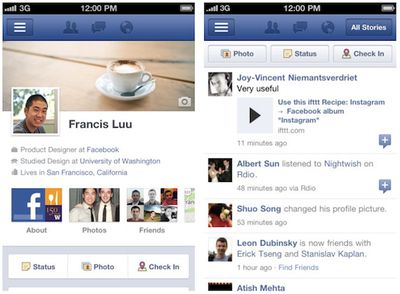 Facebook's current iPhone app
Bloomberg
now follows up with a
more extensive report
looking at Facebook's mobile efforts, which reportedly include work with HTC on a Facebook smartphone targeted for mid-2013. That effort has been previously disclosed, with the company reportedly having
hired former Apple engineers
to drive the project.
Today's report indicates that this team of former Apple engineers has actually been focused primarily on the iOS app rebuild, although the company's timeline appears to be a bit longer than suggested last month.
This team from Apple has been primarily focused on rebuilding Facebook's iPhone application, which has been criticized by users for being slow. An initial release could be announced within a couple of months, with another broader overhaul of the iPhone app coming next near, one person said.
Facebook's team of former Apple employees includes Mike Matas and Kimon Tsinteris, two iOS interface designers who left the company to start digital publishing company Push Pop Press, which Facebook acquired last year.
Former Apple staff hired by Facebook to work on mobile are: Greg Novick, who helped develop the touch-screen user interface; Tim Omernick and Chris Tremblay, who also worked on the device's software; and Scott Goodson, who helped create the stock-market application, according to people with knowledge of the hires.
Facebook founder Mark Zuckerberg has acknowledged that transitioning to mobile devices is among the most difficult tasks for the company, given the differences in user experiences between mobile and desktop. While the company has embraced mobile with apps for iOS and Android, it is still seeking ways to improve the user experience on those devices and bring new features to those platforms.