Amazon Launches Game Center Competitor for Kindle Fire, Testing 4-5 Inch Smartphone Displays
Amazon today announced the launch of its new "GameCircle" feature for the Kindle Fire tablet, a set of tools similar to Apple's Game Center that will allow users to chart achievements, compete with others via leaderboards, and sync game progress across devices via the cloud.
GameCircle will make achievements, leaderboards and sync APIs accessible, simple and quick for you to integrate, and will give gamers a more seamless and entertaining in-game experience.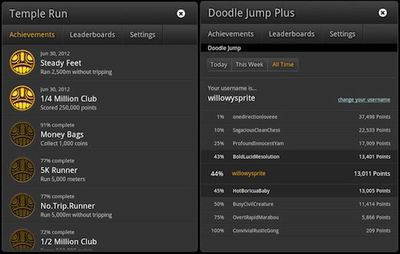 Amazon's GameCircle appears to lack the social aspects in Game Center such as specifying groups of friends and initiating head-to-head gameplay, but its core features are otherwise very similar to what is offered in Game Center while folding in cross-device syncing that some iOS developers have embraced via iCloud.
Meanwhile,
MarketWatch provides a bit more color
on Amazon's rumored
smartphone project
, noting that the company is currently testing prototypes with displays in the range of four to five inches.
Officials at some of Amazon's parts suppliers, who declined to be named, said the Seattle-based company is testing a smartphone and mass production of the new device may start late this year or early next year. [...]

One person said that the screen of Amazon's smartphone currently being tested measures between four and five inches.
As screen sizes on Android phones have increased to beyond four inches, Apple is also said to be planning a boost for the iPhone's screen that has measured 3.5 inches diagonally since the device's launch in 2007. The next-generation iPhone is said to include a screen of approximately 4 inches, with rumors suggesting that Apple will increase the height of the screen while maintain the current width.