Apple's Retail Push into China Still Limited, But Ramping Up
Back in February 2010, Apple's then-retail chief Ron Johnson noted during the company's annual shareholder meeting that it was planning to open up to 25 retail stores in China over the following two years. At the time, Apple operated only a single store in Beijing that had opened in time for the 2008 Summer Olympics held there.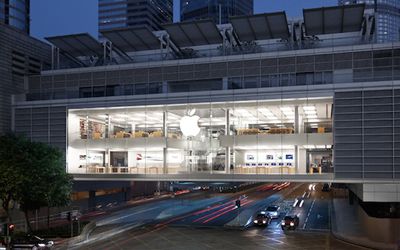 Apple's IFC Mall retail store in Hong Kong
Well more than two years later, Apple still has only six retail stores in its Greater China region, with five in China proper and one in Hong Kong. And as
noted by Reuters
, Apple has more stores in Pennsylvania (eight) than it does in Greater China.
The shortage of retail stores and authorized re-sellers leaves ample room for unlicensed re-sellers to move in. Bad consumer experiences at these unauthorized shops are common and they run the risk of eventually eroding confidence in Apple's products, said David Wolf, chief executive of Beijing-based consultancy Wolf Group Asia.

If Apple doesn't expand its network of stores and authorized re-sellers, it "loses not only near-term sales, it also endangers the sustainability of its success in China," he said.
The report does not pin down the reasons behind Apple's slower-than-planned pace of retail store expansion in China, only suggesting that the company may be running up against bureaucratic hurdles that have complicated its plans.
Apple may, however, be nearly ready for a substantial expansion of its retail footprint in China, as M.I.C. gadget just yesterday posted a summary of six more stores that are currently in the works. Most of the locations have been discussed at one time or another in recent months, but the new summary provides a consolidated picture of what Apple's Chinese customers can expect. The forthcoming locations include:
- Shenzhen: One of Foxconn's major hubs for iOS device production, Shenzhen will see a new Apple retail store going in at the Yitian Plaza shopping mall, according to M.I.C. gadget. The report includes photos of a boarded-up section of the mall where Apple is rumored to be building a two-level store, with an opening predicted for late this year or early next year.
- Chengdu: Apple appears set to open two retail stores in Chengdu, another of Foxconn's manufacturing hubs in China. The first may open as soon as September in the high-end Raffles Square district while the second is said to be a major store opening at the MixC shopping center. That location may open in December.
- Guangzhou: Relatively few details on this location are known, but according to the report Apple is preparing to open a store in the Grand City Plaza district. Major renovations for the area have, however, yet to take place.
- Dalian: As we previously covered, Apple is said to be planning its world's largest retail store for Dalian in northeastern China. No details on an opening are yet known, but previous information suggested that work was indeed underway on the store.
- Hong Kong: In February 2011, reports claimed that Apple would be opening two retail stores in Hong Kong: a 15,000 square foot location at the IFC Mall by the end of 2011 and a 20,000 square foot location at Hysan Place by the second or third quarter of 2012. The IFC Mall store did open in September 2011, and M.I.C. gadget indicates that Apple should at least come close to meeting its target for the Hysan Place store with a late 2012 or early 2013 opening.