Apple's Largest Retail Store Yet Coming to Dalian, China?
Apple appears to be working on plans to open its largest retail store yet, advertising a forthcoming store in the main Century City shopping district of Dalian, China. M.I.C. gadget posts a photo showing promotional signage in a shopping center there calling the forthcoming store the "world's biggest".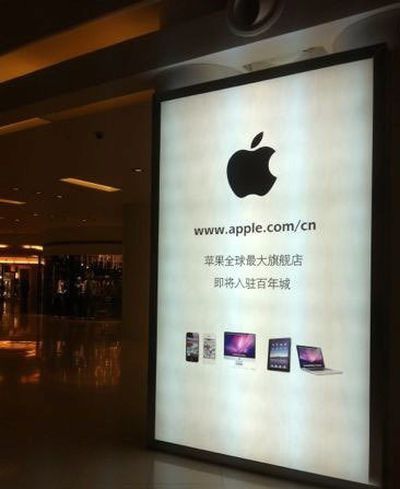 Signage in Dalian's Parkland Mall advertising upcoming Apple retail store as the company's largest
Interestingly, the article also reports on an incident that has brought Apple some additional attention, with other stores in the area complaining about new barricades for construction of the Apple retail store encroaching too far onto a public plaza.
The dispute quickly escalated just minutes after the barricades were erected yesterday, with security officers working on behalf of a neighboring business facing off with Apple-hired security guards and ultimately forcibly dismantling the barricades. A portion of the glass curtain wall on the Parkland shopping center was also smashed in the process, and police were called to the scene to address the situation.
M.I.C. gadget's report suggests that the dispute stemmed from jealously between shopping centers over Apple's choice of venue for its store, but our reading of the source article from We54.com [Google translation] indicates that the controversy is more about encroachment upon public spaces that other retailers fear will impact their business during the construction process.
Dailan, a city of 3.5 million people with a total of over 6 million people in the region, is located on the Liaodong Peninsula separating the Bohai Sea from Korea Bay in northeastern China. It is a major seaport, financial center, and tourist magnet for the region, drawing significant numbers of visitors from China, Japan, and Korea.