The San Jose Mercury News reports that California Governor Jerry Brown's office has approved Apple's "Campus 2" project in Cupertino for a streamlined environmental review process. The new designation will not speed up construction on the project, which is scheduled to begin in early 2013, but will simplify the review process over the coming months.
"Apple's state-of-the art campus brings at least $100 million dollars in investment to California and generates no additional greenhouse gas emissions," Brown said in a statement to this newspaper, listing two of the requirements Apple had met to qualify under the law. "On-site fuel cells and 650,000 square feet of solar panels will provide clean, renewable energy for more than 12,000 Apple employees on the new campus."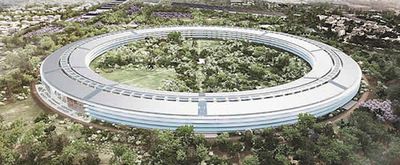 Under the "leadership project" designation, any legal challenges to the project review would be fast-tracked through the courts, helping to minimize potential delays as Apple seeks to open the campus in 2015.