Siri Shows Increasing Promise, But Accuracy Falls Short of Google Text Searches
In what should not be a surprise given Siri's beta status and its use of new technology for voice interaction with mobile devices, a study from Piper Jaffray analyst Gene Munster finds that Siri's abilities are still eclipsed by the traditional text-entry Google searches that have been in place for years.
The study included presenting Siri with 800 queries in each of two environments, a quiet room and a busy urban street, and then assessing Siri's ability to correctly interpret the queries and provide correct responses. Specifically addressing the outdoor testing, Munster notes:
While Google comprehends 100% of searches, Siri was only able to comprehend 83% of the prompted questions on a busy Minneapolis street. In terms of answer accuracy, Siri correctly answered 62% of queries on the street compared to Google's estimated 86% answer accuracy. Based on these results, we give Google an A+ for comprehension and a B+ for accuracy while we give Siri a B for comprehension and a D for accuracy.
But while Siri has some room for improvement, Munster acknowledges that the technology is only in its infancy and he remains "optimistic about its future" with an eye toward iOS 6 as bringing substantial improvements.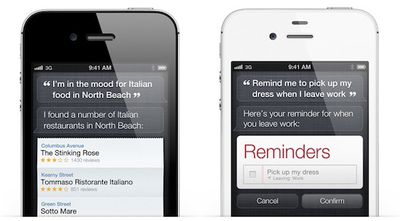 Piper Jaffray's testing was conducted using the iPhone's built-in microphone in the quiet setting and Skullcandy microphone headphones for the outdoor setting, with Siri's ability to correctly comprehend queries falling from 89% to 83% when moving outdoors to the noisy urban setting. On the accuracy side, Google's 86% rating is derived from comScore data showing that Google generates 1.14 search result pages per search, suggesting that roughly 86% of time Google presents the data the user is looking for within the first few results.
Piper Jaffray also analyzed the sources for Siri's results, finding that Google provided 60% of the answers, with Yelp and other sources filling in the remainder.
Of queries excluding commands (i.e. call Jay, send text) Google would provide 60% of the answers, Yelp 20%, WolframAlpha 14%, Yahoo 4%, and Wikipedia 2%. Breaking down Siri's reliance further, Google provides 100% of navigation results, 61% of information results, 48% of commerce results and 42% of local results. Among other result aggregators, Yelp provided the most local results (51%) and commerce results (51%), while WolframAlpha provided 34% of information results.
Munster estimates that Google's share of Siri results will drop to 48% with the launch of iOS 6 as navigation, sports, and movie queries shift over to Apple and its new partners.