Microsoft's Xbox Music Service to Include Streaming, Downloads, and Cloud Storage?
Earlier this month, we noted that Microsoft was making a major push into the living room, seeking to use its Xbox hardware as the hub for new streaming video content and a "SmartGlass" app for various platforms that will allow two-way Airplay-like wireless streaming between devices and an Xbox connected to a television.
Bloomberg now reports that Microsoft is also making a substantial push on the music side, talking to labels about launching a hybrid music service that would offer both iTunes-like downloads and Spotify-like streaming content.
The Redmond, Washington-based software maker is in talks with major record companies for the needed rights, and plans to begin service later this year, said the people, who asked not to be identified because the discussions aren't complete.

By combining the best features of competing services, Microsoft seeks to build a digital product that lets customers consume music any way they like. The maker of the Xbox console is building the new music business after its unsuccessful effort with the Zune service, which will close and move customers to Xbox Music, the company said on its website.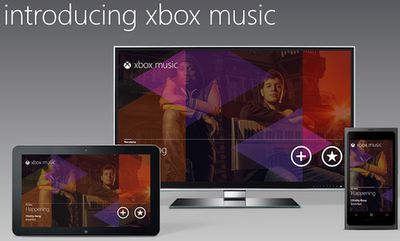 Microsoft's music service will reportedly also include a digital locker similar in some respects to iTunes Match, allowing users to host their entire music collections in the cloud for access from multiple devices. Talks with labels are still underway, and Microsoft may yet find itself unable to obtain all of the rights it is seeking, but it is clear that the company is once again working hard to compete with Apple in the digital media arena.