Microsoft Makes Xbox-Centered Living Room Push with SmartGlass Wireless Streaming and More
Microsoft today made a series of announcements at E3 revealing a major push into the living room with the Xbox 360 as the focal point. Among the most interesting announcements for Apple users is "SmartGlass", a new wireless technology that is essentially a two-way Airplay-like standard that allows users to push content from their mobile devices to their TVs via the Xbox but also allows mobile devices to act as second screens for content being displayed on TV from an Xbox. Engadget reports:
SmartGlass brings AirPlay-style wireless technology to Xbox and Windows 8 by letting you send video from your tablet or phone to your TV. It then turns that second screen into an information window giving you data of the content you're watching. Plus, it updates the info on your mobile device as the content on the TV changes. The app also enables peripheral controls for games you're playing -- so you can scroll through different plays on your tablet while playing Madden on your big screen, for example.
The SmartGlass companion app will be available this fall on a variety of platforms, including iOS, Android, Windows Phone, and Windows 8 for tablets.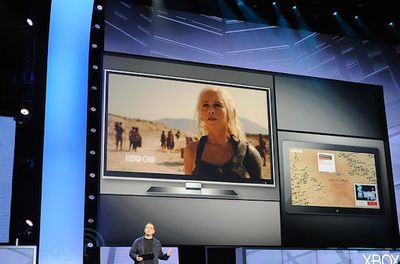 Tablet serving as "second screen" using SmartGlass app (Source: Engadget)
The SmartGlass app will arrive alongside a significant increase in the amount of content accessible through the Xbox 360, with Microsoft making a number of other announcements including a version of Internet Explorer for Xbox, a new Xbox Music streaming service, and access to streaming sports services such as WatchESPN, and live streams from the NBA and NHL. Enhancements to Kinect controls will allow for voice control of Bing searches and Internet Explorer, as well as a new partnership with Nike+ for training games on the Xbox 360.
Apple has of course been working on the Apple TV as its "hobby" focused on the living room, ramping up the device's capabilities to include AirPlay and a number of content services such as Netflix, Major League Baseball, NBA League Pass, and NHL GameCenter Live. The company has been expected to make an even more significant push into the living room with a full-fledged television set integrated with the iTunes Store, iCloud, and other services, although Apple's exact plans and timing remain unknown.