Foxconn Accelerating Sharp LCD Panel Orders to Launch Apple Television for Holiday Season?
In a new research note published today, Topeka Capital Markets analyst Brian White points to a new report from Chinese business site 21cbh.com claiming that Foxconn/Hon Hai has accelerated its schedule for ordering television-sized LCD panels from Sharp, fueling speculation that the panels are destined for an Apple television set that could debut in time for the holiday shopping season this year. Foxconn and Sharp announced a partnership earlier this year to advance LCD technology, a move some observers have seen as closely tied to an Apple television set.
This morning, the Chinese character version of 21cbh.com indicated in an article that Hon Hai Precision expects to start receiving LCD TV panel orders from Sharp in 3Q12 instead of 4Q12 as was originally planned. Recall, Hon Hai invested in Sharp earlier this year to secure LCD panels that we believe will largely support a new Apple TV. Based on a recent interview by 21cbh.com with a Sharp executive and information from sources at the company, the online news source believes the order is for the new Apple TV and could be available for the holiday season. In our view, a holiday launch would make for a very merry holiday season for Apple and consumers. However, we will continue to monitor the data points surrounding the timing of this launch as they could change.
In his new note, White also reiterates his claims from earlier this month regarding Apple's use of Kinect-like motion sensing technology for controlling the forthcoming television set, with the device also including an iPad-like touchscreen remote.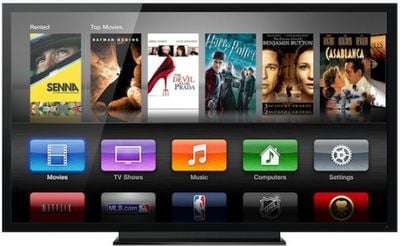 White continues to be one of the most optimistic analysts regarding Apple, maintaining his 12-month price target for the stock at $1,111. He believes that Apple could generate $10 billion in revenue from its television set in the first year, operating under the assumption that Apple's device will command a higher price than its competition's products and that the company will be able to grab 2% of the LCD television market in its first year.