Apple Applies for '.apple' Domain Name Suffix
As noted by the Associated Press, the Internet Corporation for Assigned Names and Numbers (ICANN) has published a list of nearly 2,000 applications it has received as part of an expansion of the domain naming system that is planned to add new suffixes, including some based on brands to allow companies to simplify URLs for their sites and enhance their branding.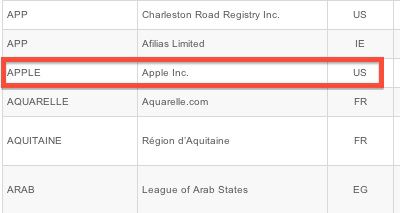 Apple is included in the list, having paid the $185,000 application fee to request the ".apple" suffix, although it is unclear whether Apple plans to make high-profile use of the new suffix or if its application is primarily for defensive purposes to prevent another company from taking it.
If approved, the new suffixes would rival ".com" and about 300 others now in use. Companies would be able to create separate websites and separate addresses for each of their products and brands, even as they keep their existing ".com" name. Businesses that joined the Internet late, and found desirable ".com" names taken, would have alternatives.
Apple is the only company to request the .apple suffix, while others such as .app, .shop, and .web have seen multiple applicants vying for the rights. Google, Microsoft, and Amazon are also active participants in the application process, with each of them seeking to secure a number of suffixes related to their businesses.
Should Apple's application be approved, Internet users could find themselves accessing product pages for the iPhone and iPad at iphone.apple and ipad.apple respectively, simplifying advertising and making the URLs shorter and easier to remember.