Apple May Add Secure Password Suggestions to Safari with OS X Mountain Lion
1Password is a popular password service which offers apps and browser plug-ins for a number of platforms, including Mac, Windows, iOS and Android. The service automatically generates strong, unique passwords whenever a login is needed, keeping them in a keychain under a master password. Once authorized, 1Password can then automatically fill in user names and passwords when needed without the user having to know the often complex passwords created for maximum security.
But with Apple continuing to push out developer betas of OS X Mountain Lion and Safari 5.2, it is now becoming apparent that the company is looking to bake similar functionality directly into Safari.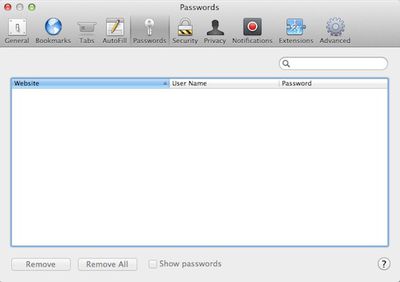 "Passwords" preference pane in Safari 5.2
One of the more visible changes in the Safari 5.2 developer builds has been a new "Passwords" pane in the application's preferences, offering a way for users to access stored user names and passwords for various sites and services. As currently deployed, the pane is essentially a more convenient way to view passwords already stored and accessible through the dedicated Keychain Access application.


Text string addressing unique password suggestions in Safari 5.2
But text strings associated with the last several builds of Safari 5.2 point to more extensive password functionality for Safari, including an ability to suggest unique passwords rather than simply storing user-created ones. Specifically, one of those strings which is present in Safari 5.2 but not currently used in a public-facing context reads:
Safari can automatically suggest and remember unique, secure passwords for websites you choose.
With Mountain Lion's focus on taking greater advantage of iCloud services to keep data synced across devices, it seems reasonable to speculate that Apple has plans to roll this password functionality out to iCloud and iOS as well. The move would allow "unique, secure passwords" created on one device to be automatically available for use on another device without having to manually record or insecurely copy and paste password information for transfer.
Apple has already revealed its plans to use iCloud to integrate browser activity across devices, as evidenced by Safari tab syncing making its way into test builds. And interestingly, Apple previously offered keychain syncing across devices with .Mac and MobileMe, but discontinued the feature with the transition to iCloud. It now appears that the functionality was removed while Apple worked to revamp and expand it to increase its functionality.


iCloud's Safari syncing entry in System Preferences in Lion (left) and Mountain Lion (right)
Apple has also signaled its intention to broaden the browser syncing features of Safari with the iCloud preference pane in System Preferences under Mountain Lion. While the Safari section has been titled "Bookmarks" under Lion, with the addition of browser tab syncing and perhaps new user name and password syncing the section has now simply been retitled "Safari".
But while Apple certainly seems to have all of the pieces in place for higher security unique password generation and syncing across platforms via iCloud, the feature has not yet been introduced for testing in developer builds of OS X Mountain Lion. The feature has also not been seen in iOS builds, although the company has yet to begin developer testing on either iOS 6 or an interim iOS 5.2 update.