The first half of each year is a slow time for Apple retail store openings, but the company does continue to schedule sporadic additions to its network of stores as new locations come online. For its latest addition, Apple will be holding a grand opening for its second store in Rome, Italy this Saturday, April 21 at 10:00 AM. The new Porta di Roma store is located in the shopping center of the same name, a major mall with over 220 shops that opened five years ago.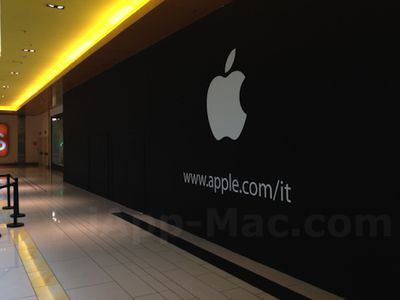 Just yesterday, iApp-Mac posted a few photos [Google translation] of the new store, which remains hidden behind a black construction barrier typical of Apple's projects.
The new Porta di Roma store will be Apple's tenth Italian location and will join the existing RomaEst store in serving the city's customers.