51% of US Households Own An Apple Product
A new survey commissioned by CNBC is as good a reason as any of why Apple's stock price has been on such a tear in recent years. More than half of all US homes own an Apple product, according to CNBC's All-America Economic survey -- and 1 in 10 homes that don't own any Apple products plan to purchase one in the next year.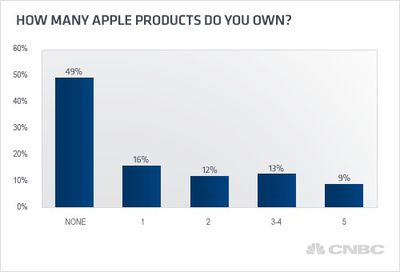 "It's a fantastic business model — the more of our products you own, the more likely you are to buy more," says Jay Campbell, a vice president of Hart Research Associates, which conducts the CNBC survey along with Bill McInturff. "Planned obsolescence has always been a part of the technology industries sales model, but Apple has taken it to a whole new level."
Among other findings in the survey:
- Income level is a strong indicator of Apple product ownership: 28% of those making under $30k/year own one, while 77% of those making more than $75k/year do.
- 63% of those aged 18-34 and 35-49 own Apple products, while only 50% of the 50-64 group do, and 26% among those 65 and older.
- 61% of households with children own an Apple product, versus 48% in those without kids.
- The average home in the South owns 1.2 Apple products, the smallest in any region. The average household in the country owns 1.6 devices.
CNBC noted that "the poll of 836 Americans was conducted by landline and cellphone from March 19 to 22 and has a margin of error of plus or minus 3.4 percent."