Best Buy Sells Almost as Many iPhones as Apple Retail
AllThingsD reports on findings of a survey by Consumer Intelligence Research Partners which investigated where iPhone owners purchased their device.
The found that the breakdown of retail vs online sales was 76 percent retail vs 24 percent online. Of that 76% from retail stores, the breakdown showed that Best Buy was almost as big as Apple's own retail stores as a point of sale: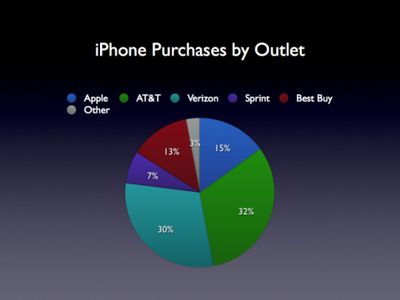 Carrier stores are clearly the dominant point of sale for most consumers, but Best Buy's presence has also proven to be a significant location for iPhone sales.
"Apple Stores and the Apple Web site are tremendously productive, but they are limited by their relatively small retail footprint," CIRP's Josh Lowitz told AllThingsD. "There are four times as many Best Buy stores, and probably 20 times as many AT&T, Verizon, and Sprint stores, so aggressive distribution through all these channels is critical to Apple's U.S. strategy."