China Surpasses U.S. iOS and Android Activations For First Time
Mobile analytics company Flurry reports that activation of new iOS and Android devices in China has surpassed the U.S. for the first time.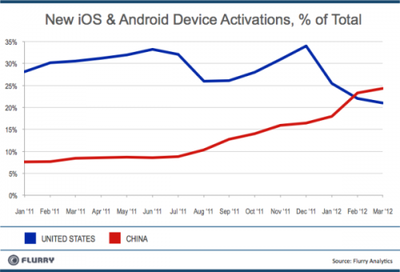 February, Flurry calculated that China surpassed the United States in monthly new iOS and Android device activations for the first time in history. China is now the world's fastest growing smart device market.
While the data shows combined iOS and Android data, it reflects the same audience of smartphone buyers. Apple has been making efforts to expand their presence in China. They even included a number of China-specific features in their upcoming Mountain Lion release.
In addition, reflective of the increase in activations, China was also the fastest growing country in app usage as measured by app session growth.