Apple Still Fighting for Smaller SIM Card Standard for Future iPhones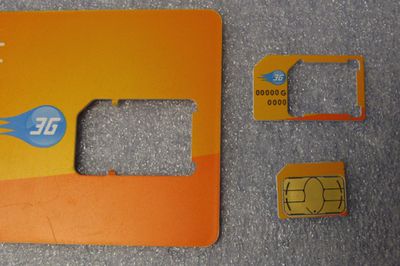 Current micro-SIM (bottom right) punched out of a mini-size SIM card (top right)
The
Financial Times
reports that Apple is up against rival smartphone makers over the next industry standard for miniaturized SIM cards. (via
Engadget
).
In May 2011, we reported that Apple had submitted a proposal for a standardized SIM Card design smaller than the micro-SIM currently used in the iPhone 4S and iPad. A smaller SIM card design would allow Apple to create smaller and thinner devices.
Other companies including Motorola, Research in Motion, and Nokia are pushing their own standards for these so-called "nano-SIM" cards.
Micro-Sims are already common in the latest generation of smart devices, such as Apple's iPhone 4S and Nokia's Lumia. The nano-Sim is thinner and about a third smaller than the micro-Sim, and would allow more space for other functions.
Apple is said to be already backed by "most of the European operators". Apple has reportedly taken some controversial steps to gain more votes in the final decision on proposals next week.
One of Nokia's objections to Apple's proposal is the use of a "drawer" to protect the nano-SIM card. The drawer design is seen on the iPhone 4S and iPad, allowing the user to eject the SIM from the side of the device.