One issue noted in several of the early reviews of the new iPad was the fact that Amazon's Kindle app for iOS [App Store] had not been updated to support the Retina display on the new iPad. While iOS is capable of scaling up most text to display at the crisp resolution of the new display, some apps such as Kindle package their own fixed fonts and are thus not compatible with Apple's upscaling.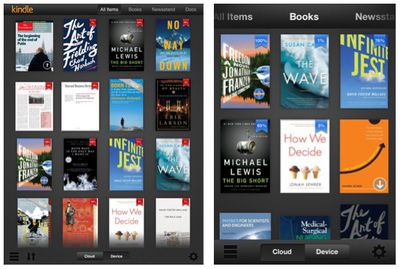 New library design on iPad (left) and iPhone (right)
But just in time for the official launch of the new iPad, Amazon has updated its Kindle app to version 3.0 to include support for the new iPad's Retina display, as well as several new features including a new library design and cloud view for browsing content.
What's New in Version 3.0

-New library design - view your content in a new, updated look and feel. iPhone users can now choose view their library in grid view.
-Cloud view - easily access all of your content in the cloud in a simple, combined view.
-Optimized for the new iPad retina display.
Kindle for iOS is a free download in the App Store.