3rd Generation iPad Reviews: Retina Display "Stunning", LTE Speeds Impressive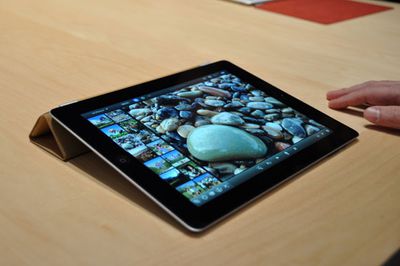 The embargo has lifted on the reviews for the 3rd Generation iPad, and they are starting to trickle out. Here are links and summaries of some of the more prominent reviews:
- Text in most apps will automatically take advantage of Retina display, though with some exceptions (Kindle App)
- "The third-generation iPad had a frame rate 1.6 times that of the iPad 2"
- 3rd Gen iPad almost identical physically to iPad 2
- Video quality of 1080p video recorded was "very good" even in low light
- "AT&T's LTE network in San Francisco was impressive." with 14.5Mbps/20.6Mbps download and upload rates.
LoopInsight Review
- "Remember how startling it was to go from one of those giant standard definition projector TVs to an HDTV? That's what this is like."
- Screen is a huge difference from iPad 2.
- Movies and photos are crystal clear
- "Once you see and use the new iPad, there will be no going back."
- LTE: "Really fast. Faster-than-my-WiFi fast."
- LTE: 40 mbps down and 20mbps up on Verizon
- Bigger battery, and does get noticeably warm in lower left corner after prolonged use.
- "I'm not being hyperbolic or exaggerative when I say it is easily the most beautiful computer display I have ever looked at."
- Verizon LTE: 22Mbps down, 21Mbps in mid-town Manhattan
- Battery tests almost matched Apple's claims.
AllThingsD
- "If you already own an iPad 2, and like it, you shouldn't feel like you have to rush out to buy the new one."
- Was able to use smaller font sizes to read books and email on 3rd Gen iPad vs iPad 2
- "Really, the new iPad should have been called the iPad 2S."
- "Apple just took its white-hot iPad and added the latest screen, battery and cellular technologies."