Apple 'Stalling' in Replenishing Reseller Stocks of Apple TV as Shortages Hit Apple Retail
While shortages of the Apple TV at numerous high-profile resellers have been documented for weeks and part numbers indicating an update alongside the iPad 3 next week have been revealed, AppleInsider now notes that Apple has specifically been stalling in delivering promised shipments of the device to resellers.
For three consecutive weeks, the Cupertino-based company has failed to make good on its promissory to restock indirect channel partners with fresh inventory of the existing $99 Apple TV product, say people familiar with matter.

Instead, partners and channel members have seen Apple push back deliveries each consecutive week by one additional week -- a practice that almost always foreshadows a formal discontinuation of a product ahead of new models.
Even Apple's own stores are beginning to see shortages of the device as Apple draws down supplies ahead of the refresh. While the company's online store is still reflecting an "in stock" status, those customers opting for the in-store pickup option will find that many Apple retail stores are currently out of stock.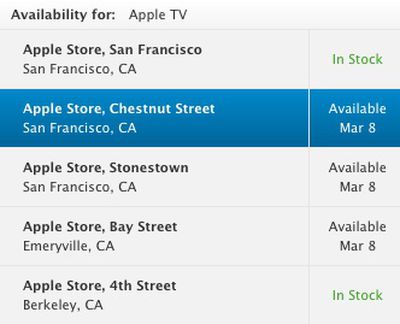 For those locations currently out of stock of the Apple TV, the company can still ship orders to the stores for pickup, but even those shipments are starting to see extended timeframes. While U.S. stores east of the Mississippi could generally have an Apple TV ordered today available for pickup by March 3, delays increase moving farther west across the country. Stores in the middle of the country are showing availability on March 6, while those in the Southwest and Southern California are citing March 7 availability and those in the Pacific Northwest down to the Bay Area can't promise availability until March 8.
Apple's iPad 3 media event is scheduled for next Wednesday, March 7, and it appears that the updated Apple TV set-top box will be making an appearance at that time.