Apple Extends Deadline for Sandboxing of Mac App Store Apps to June 1
Apple today announced that it has extended the deadline for Mac App Store apps to implement sandboxing until June 1. The requirement had been set to go into effect on March 1 after already having been delayed from last November, but continued uncertainty about implementation and its effects on app functionality has caused Apple to again slow down the transition.
We have extended the deadline for sandboxing your apps on the Mac App Store from March 1st to June 1st to provide you with enough time to take advantage of new sandboxing entitlements available in OS X 10.7.3 and new APIs in Xcode 4.3.
We first profiled the sandboxing requirements, which would restrict apps from initiating operations outside of their operational confines, back in November. While users could override the sandboxing with their own commands, compromised apps would be prevented from affecting a user's entire system. But concerns over the effect of the requirement on apps requiring system-wide file access or allowing inter-app scripting have given some pause about how sandboxing should be implemented.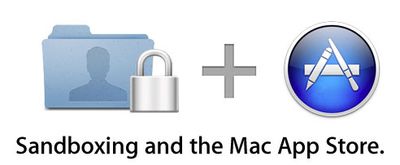 The issues was revisited earlier this month as the deadline approached, with several developers noting that there were still questions and concerns over how to implement sandboxing in their applications. One developer noted to MacRumors at the time that there were likely to be major issues if Apple were to enforce the requirement on March 1, given lingering bugs and other issues, and Apple has clearly taken those concerns to heart and given itself and developers an additional three months to work through the issues.