Apple Unveils Striking New Window Coverings at Forthcoming Amsterdam Store
We've been covering Apple's forthcoming Amsterdam retail store with interest for some time now, as it will be the company's first location in the Netherlands. While development has been slowed by historic preservation issues, rumors last month suggested that the store could open on February 18.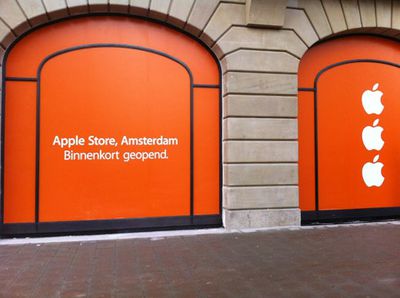 Photo from One More Thing
Apple indeed appears to be getting closer to opening the store, as today it unveiled striking new orange window coverings announcing that the location will be "opening soon". Several Dutch sites including
One More Thing
[
Google translation
] and
iPhoneclub.nl
[
Google translation
] have posted photos of the store.

Photo from iPhoneclub.nl
Orange is the national color of the Netherlands, while the three vertically-stacked Apple logos are a play on the three crosses found in Amsterdam's coat of arms and which are popularly used to represent the city.
An opening date for the new store remains unknown, with hiring plans and glimpses of the store's interior suggesting that it will not quite meet the previously-rumored February 18 date.