iWorld 2012: Bottle Opener Cases, Wave Cradle, Nomad Brush, Wallet Case
Macworld | iWorld carries the usual collection of iPhone cases and accessories, not all of which are insanely great. But here are a few interesting ones that were on the show floor as I made my way through the masses.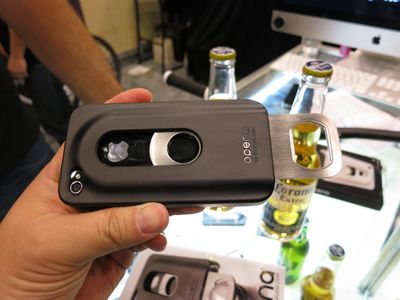 Opena Case and Intoxicase were both showing off iPhone cases with built in bottle openers. Intoxicase's even integrates with an app that counts the number of openings. Not sure the demand for such a thing, but here they are.


WaveCradle is simple aluminum stand that amplifies the audio coming from your iPhone. The stand simple curves the audio towards the listener and they claim an 8 decibel increase. Cradles cost from $19.85 to $28.50.


Nomad Brush sells capacitive tipped paint brushes for use on your iPad. The iPad can't sense pressure, so the use of these special brushes is primarily for feel. Artists may be more accustomed to using a brush than their finger. Brushes cost from $18 to $39.


iLidiPhoneCase claims to be the thinnest iPhone wallet case. It's priced at $39.95 and is shipping in a few weeks. The floor model felt a bit plastic-y, however.