U.S. Tablet Ownership Nearly Doubles over Holiday Season
According to new survey data from the Pew Internet & American Life Project (via VentureBeat), the share of U.S. adults owning a tablet device nearly doubled during the most recent holiday season, moving from 10% to 19% between mid-December and early January. While the introduction of Amazon's Kindle Fire certainly played a significant role in the tablet growth, the news still bodes well for Apple's iPad performance during the quarter.
These findings are striking because they come after a period from mid-2011 into the autumn in which there was not much change in the ownership of tablets and e-book readers. However, as the holiday gift-giving season approached the marketplace for both devices dramatically shifted. In the tablet world, Amazon's Kindle Fire and Barnes and Noble's Nook Tablet were introduced at considerably cheaper prices than other tablets.
Apple's iPad dominated tablet sales following its early 2010 debut as competitors struggled to find traction in the marketplace, but the Kindle Fire has been seen as perhaps the best-equipped product to take on the iPad given its much lower pricing ($199) and its integration with Amazon's significant services and large customer base. But while the Kindle Fire is selling well according to estimates, its effect on iPad sales has been the subject of considerable debate given the significant differences in hardware and target markets between the two devices.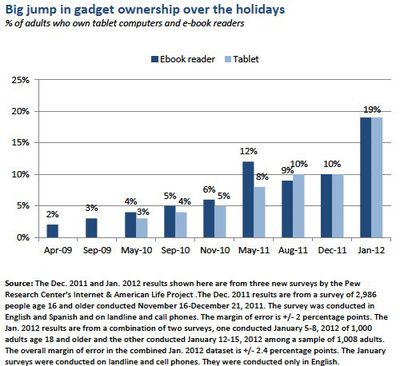 Apple is of course rumored to be introducing the iPad 3 in the coming months, amid reports that it will continue to offer the iPad 2 at a lower entry-level price. Even so, Apple will be unlikely to match or closely approach the Kindle Fire's $199 pricing given the iPad's larger size and differences in the two companies' approaches to the tablet market. Apple focuses on profitability for its hardware products with content providing a supporting role at much smaller margins, while Amazon is willing to sell hardware essentially at cost in order to support profitability in its massive shopping and content offerings.
Apple is also pushing for greater adoption of the iPad in the education market with its just-launched iBooks Textbooks initiative. Envisioning a future in which students carry all of their textbooks in the form of interactive iBookstore downloads on iPads, the company is seeking to drive innovation and engagement in education while making the iPad the tablet of choice for students of all ages.