Early iBooks Textbooks Downloads Estimated at 350,000
AllThingsD reports on a new research note from Global Equities Research analyst Trip Chowdhry claiming that customers downloaded approximately 350,000 iBooks Textbooks from the iBookstore over the first three days of availability. That performance was accompanied by over 90,000 downloads of Apple's iBooks Author app from the Mac App Store.
If those numbers are accurate, Apple's textbook effort would seem to be off to a good start. Which is good news for everyone involved — particularly textbook publishers, who stand to make more money on books sold through iBooks than those sold at retail.
With only eight iBooks Textbook titles available at launch, Apple and publishers are only beginning to scratch the surface of the digital textbook market. But it is unclear just how many of those 350,000 downloads were paid purchases, with seven of the eight titles carrying Apple's maximum $14.99 price tag.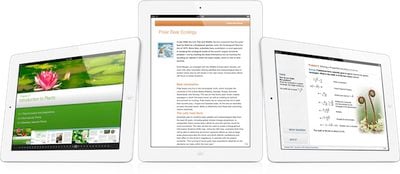 The eighth title, E.O. Wilson's Life on Earth, is available for free, although it currently contains only the first two chapters of the book, and presumably the title accounted for a significant number of the total downloads as curious users looked to test drive the new offering. Paid titles are also required to offer free samples, and Chowdhry apparently did not mention whether these are counted as "downloads" by his tracking method.