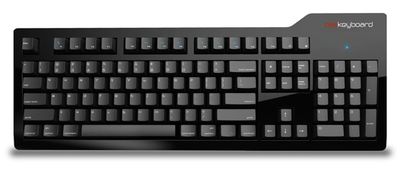 Das Keyboard, a popular keyboard manufacturer that specializes in "clicky" mechanical keyboards like the Apple Extended Keyboard or the IBM Model M, has announced a Macintosh-edition of its Model S Professional keyboard.
Das's keyboards are a favorite of many computer users, including MacRumors chief Arnold Kim. The Model S Professional for Mac is the same keyboard as the Model S that Das Keyboard has been selling, but with the appropriate "control", "option", and "command" keys for the Macintosh, plus function keys for sleep, brightness +/-, mute, volume +/-, eject, play/pause, next and previous track.
CNET gave the Model S Professional 4/5 stars, praising its "tactile feel and satisfying clack" and noting that "power typists will find comfort, utility, and nostalgia in the Model S Professional's sleek design and springboard performance." The keyboard "brings back the same mechanical key switches and provides tactical and audible feedback that might even improve your typing speed and accuracy." The mechanical key switches of the 2.6 lb. Model S are designed to withstand more than 50 million strokes.
The Model S Professional for Mac will be priced at $133 when it's released, but is available for pre-order for $113. Das Keyboard says it has a limited quantity available for immediate shipping, but the keyboard will be shipped in volume on April 16, 2012.