VentureBeat reports that Sony will be bringing its "Music Unlimited" streaming service to the iPhone and iPod touch within the next three months, looking to make inroads into Apple's ecosystem that has been dominated on the music side by iTunes.
The electronics company will offer a free iPhone and iPad app for Music Unlimited at some point this quarter, Tim Schaaff, head of Sony Entertainment Network said today at a small CES media gathering.

Additionally, the iOS app will offer offline caching for subscribers to Sony's service, allowing users to save their playlists for listening when away from a network connection.
Sony introduced its Music Unlimited service nearly a year ago and garnered some attention when a company executive suggested that Sony Music could pull its content from the iTunes Store if Music Unlimited proved successful, although another Sony executive disputed that notion soon after.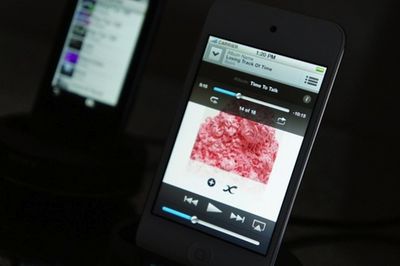 Sony's Music Unlimited app for iOS (Source: The Verge)
As a subscription service, Apple would take a 30% cut of a revenue from subscriptions generated through an iOS app from Sony. But Apple's scaled-back subscription rules that went into effect last year would allow Sony to still offer an app without having to share revenue with Apple as long as the app itself does not allow subscription signups and does not contain any external links to sign up for service outside of the app.